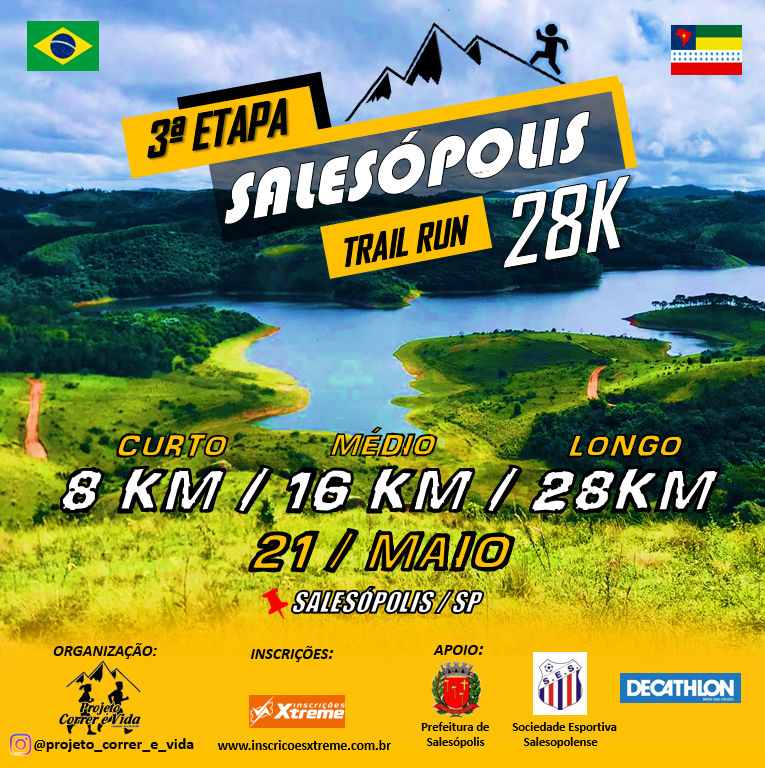 Circuito Correr É Vida - 3ª Etapa
About the Event
O PROJETO CORRER É VIDA é um circuito de Trail Run (corrida em estradas de terra e trilhas) que contará com 6 (seis) etapas em 2023, espalhadas pelas cidades de Suzano, Santa Branca, Salesópolis e Biritiba Mirim.
O Circuito terá um Ranking, e pontuará os 20 primeiros atletas no geral de cada categoria (feminino e masculino), ao final da temporada de 2023 os 3 primeiros no geral de cada categoria receberão um super prêmio.
O PROJETO CORRER É VIDA nasceu em 2016 através de um projeto de incentivo à prática de atividades físicas como caminhada e corrida, e foi Idealizado pelo atleta de corrida João Oliveira, mais conhecido no meio dos atletas como "Joãozinho da Montanha".
A Terceira Etapa de 2023 será realizada na cidade turística de Salesópolis, conhecida como a nascente do famoso rio Tietê, que corta boa parte do estado de São paulo.
Este desafio conta com os percursos de 8km....16km e 28km.
Tickets
This event is NOT being sold by Apuama.
Check the event page for more information on prices and ticket purchase.
More Information
Always check for updated information on the event or organizer's website.
Event Page
Organizer
No organizer information available