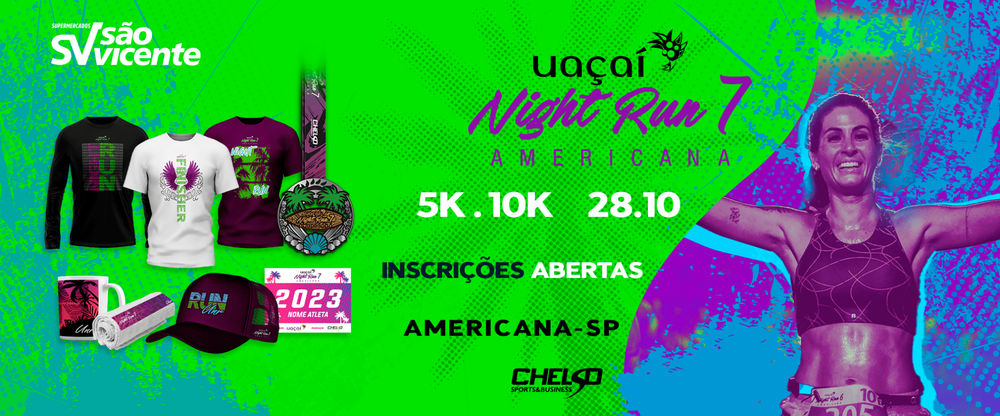 About the Event
A Runfor apresenta a 7ª Edição da Uaçai Night Run, que acontecerá em Americana, SP, no dia 28/10/2023. A prova é conhecida na região e possui duas distâncias, 5k e 10k, além de um pós-prova São Vicente de tirar o fôlego. A premiação inclui troféus para as três maiores equipes e premiação de 5 em 5 anos. Haverá também um show de pagode e muito mais! Os kits incluem medalha finisher, cronometragem, numeral + chip, estrutura e pós-prova. O kit plus ainda conta com camiseta manga curta e o kit premium com camiseta manga longa. Confira os percursos no site e leia o regulamento antes de se inscrever. As inscrições vão até 25/10/23 às 23:59 e podem ser parceladas em até 6x no cartão. Não fique de fora dessa super prova organizada pela Chelso Sports. Inscreva-se agora mesmo!
Tickets
This event is NOT being sold by Apuama.
Check the event page for more information on prices and ticket purchase.
CORRIDA 5K

R$89.90

CORRIDA 10K

R$89.90

CORRIDA 5K

R$119.90

CORRIDA 10K

R$119.90

CORRIDA 5K

R$169.90

CORRIDA 10K

R$169.90
More Information
Always check for updated information on the event or organizer's website.
Event Page
Organizer
No organizer information available